ComCard Pro
Price: £ 84.57 (£ 70.48 ex VAT)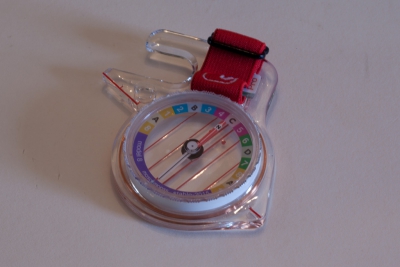 WILL YOU MAINLY USE YOUR ComCard OUTSIDE EUROPE? Please add Additional Information on the Checkout page as the compass module is specific to your world region.

It usually takes about two weeks to manufacture a ComCard Pro. Please allow an extra week for deliveries outside the United Kingdom.
The SPORTident ComCard Pro combines two key items of equipment - a SPORTident card and Moscow Compass in a single, elegant thumb device. The chip is the same as for the SI-Card 10 with a 132 punch capacity (128 punches with time and control number, start time, clear time, check time, finish time). It stores a punch in 60ms, which is twice the speed of a ComCard Up. The operating temperature range is 0 - 50 Centigrade and altitude below 500M. Although bubbles may form in the compass outside the working range, these should disappear when the compass returns to room temperature. In the future bubbles may not reappear, even in cold weather or at high altitude because after a period of "training" the plastic becomes more elastic.
Compass Options:
Stable - Moscow 3 Compass - The needle setting time is 1 - 1.5 seconds and stability while running is excellent.
Rainbow Stable - Moscow 8 Compass - The needle setting time is 1 - 1.5 seconds and stability while running is excellent.
Super Stable - Moscow 9 Compass - The needle setting time is 1.5 - 2 seconds and stability while running is the best.
Fast - Moscow 2 Compass - The needle setting time is 0.5-1 second and stability while running is good.
Only the Stable and Rainbow Stable are available in the Southern Hemisphere.
The patent-pending design guarantees zero deviation of the compass needle. The SPORTident chip is sealed in the compass underneath the runner's thumb which makes it easy to use at a control.

The ComCard is compatible with all standard BSF7 and BSF8 stations and has a 2 year return to base warranty against chip or compass failure.
Associated Products
Price (£)
Price ex VAT (£)

Select this option if you wish to upgrade your postage for delivery as follows:

UK - Royal Mail Special Delivery
Outside UK - International Tracked or where possible Tracked and Signed

6.00
5.00

Spare black elastic 14cm finger loop for SI-Card 5/6/8/9/10/11/ComCard (used for orienteering)

1.69
1.41
A handling fee of £ 1.20 (£ 1.00 plus VAT) will be applied to any order below £ 4.00.