Price: £ 16.00 (£ 13.33 ex VAT)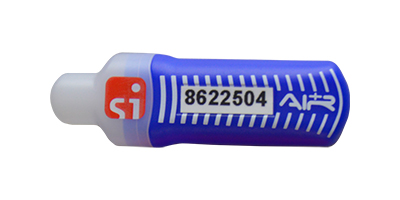 The small internal battery in a SIAC should last at least 3 years. It is possible that your SIAC was not switched on successfully at a recent event and the battery is fine. Your SIAC is switched on for contactless use by dipping it in a CHECK or SIAC TEST/ON station. A number of SIACS are sent back to us unnecessarily because they are not being dipped in the CHECK station for long enough to switch the SIAC on.
Please check your SIAC at an event by dipping it in a SIAC Battery Test Station which should be provided by ALL event organisers. If the display on top of the SIAC Battery Test Station shows FAIL and there is no beep or it shows WAxxx and the station beeps 10 times in quick succession, the battery should be replaced.
If the splits print shows multiple rows for the same control or the message on your splits print advises you to replace the battery soon, this also indicates that your SIAC battery is likely to fail within a few months. If the splits print shows a Battery Status of OK, everything is fine.
If reliable Contactless Punching is not essential, you can carry on using your SIAC until the battery fails and from then on the SIAC will work as a traditional SI-Card that needs to be dipped at each control.
PLEASE ENSURE YOU ENTER YOUR EXISTING SIAC NUMBER. PLEASE DOUBLE CHECK.
When you order your Battery Exchange you can choose a different colour outer casing if you wish. If it is less than 2 years since you purchased the SIAC or a Battery Exchange, please add a note to your order and we will check the SIAC when we receive it from you. If the battery is failing early, as a goodwill gesture we will refund your SIAC Battery Exchange fee, less a charge of £5 for administering the process and returning the SIAC to you.
SIACs should be sent to SPORTident UK Limited, Sleagill Head Farm, Sleagill, PENRITH, Cumbria, CA10 3HD, United Kingdom. Please remove and keep any elastic attachments. The SIAC must be placed in a small padded envelope and if sending from the UK, use Large Letter Post (max thickness 2.5cm) or a tracked option.
When we receive your old SIAC, we will despatch the SIAC Battery Exchange on the next working day to UK addresses by Royal Mail 24 and to foreign addresses by Royal Mail International Standard or a tracked service if you have paid extra for it.
If you would like to discuss this, please email support@sportident.co.uk.