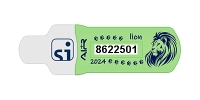 One World - Seven Continents - Seven Champions - Seven Stylish Animal Motifs.
The 1st SIAC with a 100% recycled body. Available while limited stocks last. Shipping from 4th December, promotion ends 31st December. The perfect Christmas gift. Don't miss out!
Purchase a complete Champion Set of the 7 different animal SIACs and get a standard SIAC for free.
Choose a 7 digit number in the range 8000001 to 8499999. SIAC Active Card includes an elastic Finger Loop 14cm (orienteering) or a Wristband 25cm (MTB events or trail races)
The SIAC holds 128 Punches. When timing data is written to the SIAC at a control, the translucent tip produces several vivid flashes and the SIAC makes several shrill beeps to confirm success. The SIAC has a 2 year warranty and we recommend that you replace the battery after 3 years. The battery can be replaced by returning the SIAC to SPORTident and the current cost is £16.
The SIAC is used for almost all MTB Enduro events worldwide. It is perfect for ALL orienteering events and when used contactlessly, you only need to pass within 0.5M of a control. The SIAC can also be used at events with Direct Punching where you dip it in the station, just like any other SI-Card.
It usually takes about three weeks to deliver a personalised SI-Card. Please allow an extra week for deliveries outside the United Kingdom to other European countries and two extra weeks to countries outside Europe.