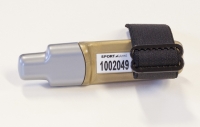 Please consider purchasing a SIAC instead - Can be used for all events (incuding Contactless), issues a shrill beep and a bright flash.
Pick your own colours and a 7 digit number in the range 1000001 to 1999999.
Supercedes and is faster than the SI-Card 6, nearly 3 times faster than an SI-Card 5. It has 53 punch capacity (50 punches with time and control number, start time, check time, finish time)
It usually takes about two weeks to manufacture a personalised SI-Card. Please allow an extra week for deliveries outside the United Kingdom.